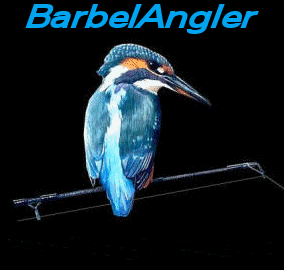 Tackle Review

Okuma Interceptor IBF40 by Andy O'Shaughnessey
This budget priced reel is one in a range of different sized free spool reels, ranging from the IBF 30, 40,50 and 65. The IBF40 exactly matches the weight of the very popular Shimano 5000GTE, similar in size also.

The body is very smoothly made from a high modulus graphite material, and is finished in a dark silver coating, again all rounded and smooth..

The free-spool facility lever sits at the rear, the sensitivity of which is micro-adjusted by a click-stopped knob.

The anti-reverse lever sits underneath and when engaged, holds the rotor exactly where the handle stops.

The large bail arm incorporates a large roller, making the reel suitable for both braided and mono mainlines. Line lay on the machined alloy-skirted spool is excellent and has a very smooth front drag; a spare graphite spool is also supplied. Capacity is quoted as; lbs/yds 8/220, 10/165, 12/130 but this depends on line diameter.

The double, folding, ambidextrous handle appears rather large at first, but very comfortable. Gear ratio of the reel is 4.5:1, not as fast as the GTE, but you decide.

Out of the box the reel performs very smoothly, and has proven very reliable. Inside the box is also a side plate gasket, looking ahead to future servicing perhaps?

The price of this very well specified reel is an amazing £30. If you're on a budget, or want a reel very suitable for Barbel fishing with a free-spool facility, then at least handle one, you may be very surprised.


Andy O'Shaughnessey. (Andy Tomms).

orig Nov 2005

regenerated Feb 2007